Heraclitus once wrote, "The only constant in life is change." No truer statement has been made, and this is equally applicable to strategic enterprise-wide transformations, which are no longer an option but a business imperative to remain competitive. How will your organisation take advantage of strategic transformation while foreseeing and navigating risks?
Enterprise transformations are no longer an option but a business imperative.
In recent years, organisations have exponentially accelerated their journeys, with leading firms growing their enterprise technology adoption five times faster than 2018. Hence, the risks are no longer getting left behind but being addressed from a functional Group Level. Basic objectives, such as cost optimisation and process improvement, are no longer the aim but being proactively prepared for potential risk assessment, with risk being promoted to forefront of the transformation agenda.
In a recent OCEG research survey sponsored by ServiceNow, 80% of respondents indicated that enterprise transformation is a strategic business objective in their organisations today, and 61% believe their risk profile has changed or will change significantly due to the risks created by digitalisation.
Consumers and financial organisations are adopting digital technology at a rapid pace, and while this is generating new opportunities, it is also creating new risks. The digital transformation journey of many organisations is well underway. Working along with Banks, Wealth Managers, and Insurers, TORI Global is already foreseeing the application of new technologies, including artificial intelligence (AI), blockchain, cloud computing, predictive analytics, and robotics, these are disrupting the way many companies design and improve customer experiences, manage relationships with third-parties, distribute and service products.
An exponential burden is being placed not only on the IT department but also on the internal risk function. Business leaders are making strategic choices on the investment, technology, resourcing levels and the skills needed to operate a digital business, all of which will have an impact on the short-term profitability and long-term viability of their businesses. These strategic choices inevitably involve an element of risk. At the same time businesses must cope with external threats.

For example, as businesses undergo digital transformation and more of their assets become digital, the threat of cybercrime and risks around data privacy are growing. While digital transformation is creating major opportunities for organisations, it is also introducing a new dimension to the traditional view of risk.
At the present day, risk management teams remain reactive, with a primary focus on addressing regulatory changes and legacy IT systems by implementing new technologies, and applying risk assessment techniques, we often see in organisations that they are limited by the processes, systems, and wider business insight with which they have been equipped. As technology transformations disrupt the risk landscape, organisations will need to pivot into an entirely new approach to digital risk.

TORI Global has developed a robust Governance, Risk and Controls Framework that will assist clients in this journey. Whether your organisation's ambition is to build a digital future, transform the organisation, optimise their operations, addressing legacy technology, or building resilience, understanding the risk areas is critical to identifying and dealing with all the potential risks that an organisation may be exposed to in a digital environment.
In our work helping some of the world's top-notch organisations navigate the challenges of digital transformation, TORI Global focuses on key financial and non-financial risks.
The graphic below indicates all of the risk areas considered within the framework:
---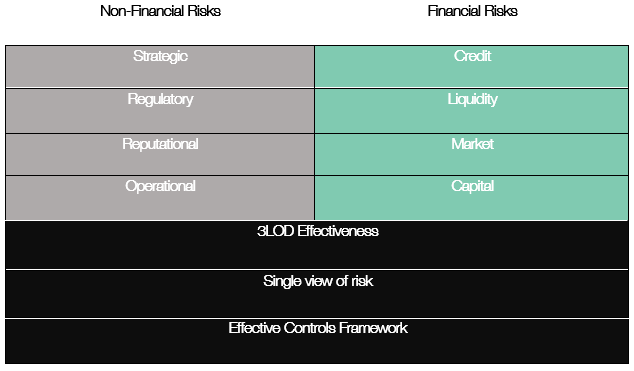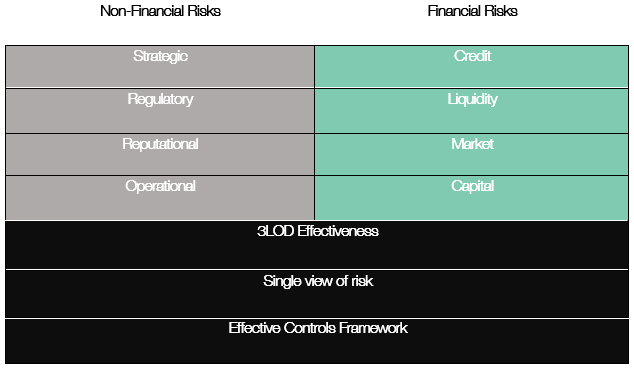 ​
---
All things considered, digital transformation across financial services has led to a rapidly changing business environment which offers opportunities for new capabilities and initiatives. One of the most critical success factors to win in this digital era is organisational agility. TORI Global will work with your organisation to create a scalable and adaptable digital journey encompassing a well-defined digital strategy, a consistent business case, and a customised and flexible approach.
Along with digital transformation, it is imperative for organisations to manage the risks that are introduced into the business environment and its impact to the existing ecosystem and driving an optimised value from their digital initiatives. Despite all the challenges and risks that the evolving environment presents, we encourage organisations not to overlook the opportunities that 'moving to digital' brings forth along with the intrinsic impact that it shall have on them.